Boys; the title of Charli XCX's latest offering and a subject matter I am intimately familiar with. So it's no surprise that I do my due diligence and dig into this piece of playful pop-art.
Flipping the cliche'd script and appreciating the male form is nothing new, but the soloist takes control of the approach to bring us not only a catchy new cut but also a deliberate display of female empowerment in visual form. The song itself is a simple synth-laden electroni-popper with persistent percussive snaps and subtle 8-bit shine, but it's the accompanying video that has the blogosphere hopping today.
In what can be described as music's most flirtatious video diary, a gathering of famous faces indulge our songstress / director in her wildest whims.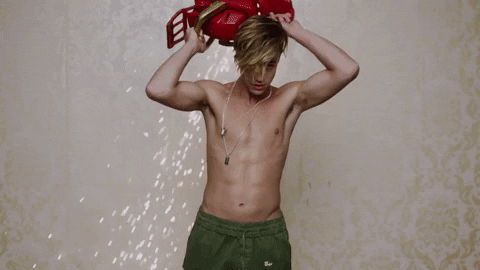 Joe Jonas kicks it off with a steamy morning breakfast, while a shirtless Cameron Dallas wields a chainsaw as the literal sparks fly. Not to be outdone, you'll find Olympian Tom Daley in the shower and Riz Ahmed cuddling a bright pink bear. And that's not even thirty seconds into it all.
A fun composition bolstered by and underlying message of self-certainty, give "Boys" a stream below:
Charli XCX Facebook | Instagram | SoundCloud | Twitter